What are the current competitions for social impact design?
Check out the latest Autodesk Design for Industry challenge.
Earn $1,000 & recognition by industry pros through Autodesk Design for Industry challenges & compete against students from around the world.
What role does design play in helping other people? And how can engineering help create a better world?
What makes a building more resistant to natural disasters?
Build Change helps developing communities ravaged by earthquakes and typhoons reconstruct, retrofit, and resist future damage.
Learn more
How can 3D printing change the world of prosthetics?
e-NABLE is a global online community with over 5,000 volunteer members who use 3D design software and 3D printers to make free prosthetic hands for children and adults. 
Discover how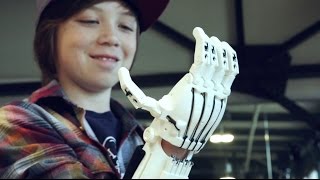 Could advances in solar power tech improve farming practices?
Proximity Designs takes a human-centered approach to designing the Lotus solar pump—a revolutionary, highly affordable technology that has changed the lives of small plot farmers in Myanmar, and is poised to do the same in more developing countries around the world. 
Learn how
What skills do I need to design for social impact?
Who is using design to create a better world?
Teacher. Researcher. Leader.
Dr. Linder's teaching and research efforts are focused on sustainable design, international development, human centered design and creative design methods. These efforts are directed at developing techniques and approaches that further a more ecologically connected and socially informed design practice. As an experienced teacher and practitioner of product design, Linder regularly advises and delivers workshops for practitioners, educators and the Public. He is a co-organizer of the International Development Design Summit that brings people together from over 20 countries to build local, creative design capacity.
Dreamer. Student. Designer.
"My name is Claudine Humure and I am a rising senior at Wheaton College in Norton, MA majoring in biology and minoring in business and management. I have a great passion for prosthetic limb research and design as well as working with amputees of all kinds."
Read more about Claudine's work with social impact design
Creator. Artist. Student Ambassador.
Andrew Vincent is a graduate student working towards a master's in industrial design at Auburn University. His undergraduate degree is in Fine Arts from University of Missouri, though he's been dabbling with 3D modeling since his junior year in high school. His motivation to help others stemmed from a studio project at Auburn University. There, he blended art and science to design a water resistant prosthesis leg cover as assistive technology for a client who is disabled. "My client described how he liked to go hunting and fishing, but always worried about his expensive prosthesis getting dirty and wet. The goal was to design a solution that would help protect and keep his prosthetic leg dry." Andrew is also a Design Academy Student Ambassador for the Autodesk Student Expert Network. 
View Andrew's portfolio
If I'm interested in social impact design, what are some resources that should I read?
Background Image:
Where can I get started? How can I learn to design for social impact?
Community Design Challenge
This project provides a learning experience in which you develop and apply your knowledge and skills to a real world design challenge inspired by the Water, Sanitation, and Hygiene (WASH) Community Design Challenge in Diepsloot, South Africa. In this project, you'll apply user-centered design and sustainability practices to design a new water, sanitation and hygiene solution using Autodesk Fusion 360, a cloud-based CAD/CAM software for product design.
Enroll
Introduction to Design for Innovation Using Fusion 360
To make a positive social impact, designers and engineers not only have to come up with great ideas, they also have to make them real.
By tackling a real world problem—the problem of access to clean drinking water in developing countries—we'll look at how to apply a design process to turn ideas into concrete products. For those new to CAD, we'll get started with some easy warmup exercises.
Let's get started.
Enroll
What tools can help design a better world?
Fusion 360 can help you design and create a better world
Whether you're a designer or an engineer,
Fusion 360
can help you make a social impact. Take your ideas and make them real.
Designing for social impact: Additional resources
A new generation of designers is emerging on college campuses around the globe. It's not just a new wave of design; it's also a new wave of how design is done and, ultimately, what it produces. The problem? It's still an uphill battle to get the resources and networks needed to reach these students' core goal, especially while still in school. And that goal is about helping to make the world a better place....
Ask anyone: Technologies such as email and cell phones have turned the already-rapid pace of modern life into a frenzied, nearly unmanageable need for immediacy and instant gratification...