You are here
Getting started with Fusion 360
Fusion 360 takes your ideas and makes them real
Fusion 360 helps students and educators prepare for the future of design. It's the first 3D CAD, CAM, and CAE tool of its kind, connecting your entire product development process into one cloud-based platform. Download the software today, then turn your ideas into reality. 
Get the software
Where can I find video tutorials to learn the basics?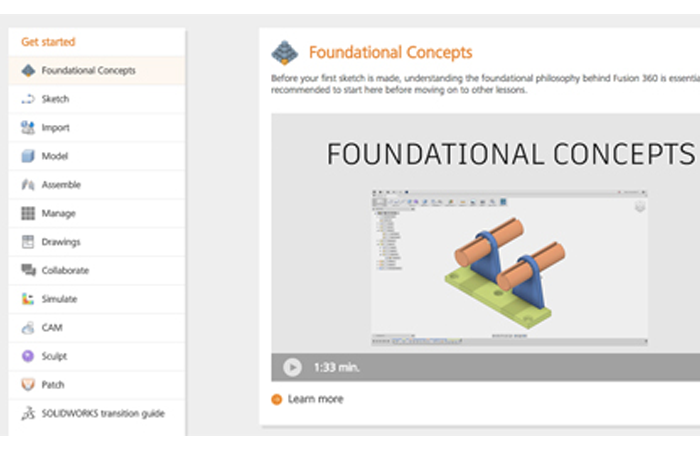 Get started with quick reference training videos
Brand new to Fusion 360? If looking for foundational concepts explaining software features and skills, be sure to check out Getting Started with Fusion 360. This resource provides you with training videos on specific Fusion 360 skills and vocabulary that will help you get started with the software. 
Watch the videos
Where can I attend a live training in Fusion 360?
Design Now Webinars
Get up and running with Fusion 360 by joining a Design Now Webinar. These webinars introduce students to Fusion 360 with presentations centered around real-world concepts, skills, and projects. Prepare for academic and career success by registering for a live session or watching a recording. 
Learn more
Are there free online courses I can take in Fusion 360 (CAD, CAE, CAM)?
What if I'm ready to show off my skills?
Challenge yourself with a competition
Earn recognition from industry pros through Autodesk Design for Industry challenges. These competitions challenge you to design a project in Fusion 360 based around an industry theme like home & office, automotive, or audio technology. Take your skills to the next level in support of your future career and share your designs with industry professionals.
Learn more
And when you're ready, get certified.
Become an Autodesk Certified User
Career and technical education programs across the United States equip students with marketable 2D and 3D design skills by teaching them to use state-of-the-art Autodesk® design software. Autodesk Certified User certification confirms students have the skills necessary to continue their design careers--whether they attend college, enter the workforce, or work toward additional levels of industry certification after graduation.
Get certified
Where can educators get started? What are some resources for the classroom?
How can Fusion 360 prepare students for the real world?
The Autodesk Design for Home & Office Challenge concluded with designs from students around the world. The winner was Autodesk Student Expert Cole Snapp, who designed a workspace draft table that wowed a jury of industry professionals. The compeition was a part of the Design for Industry challenge series, which is designed to prepare students for future careers. 
Coalesse, a sponsor of the Design for Home and Office Challenge, creates office furnishings with the ultimate goal of maximizing collaboration in the workplace. They use Fusion 360 to communicate their design ideas with their teammates across the company. 
What are some additional resources for the classroom?
Have your students practice with a project
In this project, students will learn the Fusion 360 skills that product designers like Karim Rashid use every day at work: researching target audience needs, sketching 3D models, applying ergonomic design principles for comfort, and presenting a scale-model chair prototype that fits in your hand. 
Start the project
How can you introduce students to 3D modeling if they aren't ready for Fusion 360?
Just getting started? Try 3D modeling with Tinkercad.
Tinkercad is a simple, online 3D design and 3D printing app for everyone.
Start tinkering
Learn how others are using Fusion 360
*Free Autodesk software and/or cloud-based services are subject to acceptance of and compliance with the terms and conditions of the software license agreement or terms of service that accompany such software or cloud-based services.  Software and cloud-based services subject to an Educational license may be used solely for Educational Purposes and shall not be used for commercial, professional or any other for-profit purposes.
Get started with Fusion 360 tools and resources